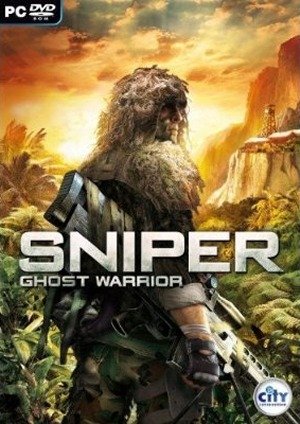 Uploader:LMGames
Idioma:
Español
Comprimido con:WINRAR
Contraseña:LMGames
Plataforma:PC
Subtitulos: Español, Inglés, Francés
Contenidos extras: Inc. Medicina, Extras

Sniper: Ghost Warrior
FPS ambientado en un hábitat tropical y selvático en una isla llamada Isla del Trueno, protagonizado por un francotirador. El juego presta especial atención al sistema de balística teniendo en cuenta la trayectoria, el viento, la distancia y un largo etcétera.

System Requirements
——————-
- Windows XP/VISTA/7
- Intel Pentium 4 3,2 GHz, Intel Pentium D 2.66 GHz, AMD Athlon 64 3500+
- 1 GB RAM (XP), 2 GB RAM (VISTA/7)
- 256 MB graphics card, DirectX 10.0 or 9.0c compatible, Shader Model 3.0
- GeForce (6800/7600-7950/8600-8800/9600-9800/GTX 260-280) or Radeon (X1650-1950/HD2400-2900/3650-3870/4650-4870)
- 6,5 GB of free hard drive space
- Sound card compatible with DirectX 9.0c
- DVD-ROM, mouse, keyboard

INCLUYE! MAP PACK DLC!!


traduccion google
Sniper: Ghost Warrior Map Pack amplía aún más la experiencia multijugador con 5 nuevos mapas. Batalla de controlar ruinas petrolíferas o están al acecho para capturar una de las torres de piedra mística. Este nuevo pack de mapas trae los francotiradores y la oportunidad de eliminar a los enemigos incluso de larga distancia. Sniper: Ghost Warrior pack de mapas incluye nuevos mapas para el deathmatch, deathmatch y modos equipo VIP con una variedad de nuevos lugares!
——————-

FILESERVE
http://www.fileserve.com/file/UjCRFEw/SNIpMulti-LMGames.part01.rar
http://www.fileserve.com/file/7N8TnVx/SNIpMulti-LMGames.part02.rar
http://www.fileserve.com/file/v67sVr8/SNIpMulti-LMGames.part03.rar
http://www.fileserve.com/file/WHp6Q8j/SNIpMulti-LMGames.part04.rar
http://www.fileserve.com/file/kWD9sEd/SNIpMulti-LMGames.part05.rar
http://www.fileserve.com/file/MAWSjvB/SNIpMulti-LMGames.part06.rar
http://www.fileserve.com/file/ZEJh6cU/SNIpMulti-LMGames.part07.rar
http://www.fileserve.com/file/NXuCFhM/SNIpMulti-LMGames.part08.rar
http://www.fileserve.com/file/VaD9uuF/SNIpMulti-LMGames.part09.rar
http://www.fileserve.com/file/YcSdBPN/SNIpMulti-LMGames.part10.rar
http://www.fileserve.com/file/r9q5U99/SNIpMulti-LMGames.part11.rar
http://www.fileserve.com/file/HJd49RJ/SNIpMulti-LMGames.part12.rar
http://www.fileserve.com/file/E3S8Qqs/SNIpMulti-LMGames.part13.rar
http://www.fileserve.com/file/Z2Qndtw/SNIpMulti-LMGames.part14.rar
HOTFILE
http://hotfile.com/dl/70655393/c02082b/SNIpMulti-LMGames.part01.rar.html
http://hotfile.com/dl/70655394/4079897/SNIpMulti-LMGames.part02.rar.html
http://hotfile.com/dl/70655409/7d7abe1/SNIpMulti-LMGames.part03.rar.html
http://hotfile.com/dl/70655411/586d216/SNIpMulti-LMGames.part04.rar.html
http://hotfile.com/dl/70655417/804f20d/SNIpMulti-LMGames.part05.rar.html
http://hotfile.com/dl/70655423/d488e07/SNIpMulti-LMGames.part06.rar.html
http://hotfile.com/dl/70655531/2713676/SNIpMulti-LMGames.part07.rar.html
http://hotfile.com/dl/70655695/7bd9db0/SNIpMulti-LMGames.part08.rar.html
http://hotfile.com/dl/70655747/4017b61/SNIpMulti-LMGames.part09.rar.html
http://hotfile.com/dl/70655752/1fdad89/SNIpMulti-LMGames.part10.rar.html
http://hotfile.com/dl/70655779/ecf5535/SNIpMulti-LMGames.part11.rar.html
http://hotfile.com/dl/70655787/5b0987a/SNIpMulti-LMGames.part12.rar.html
http://hotfile.com/dl/70655789/1056305/SNIpMulti-LMGames.part13.rar.html
http://hotfile.com/dl/70655837/968347c/SNIpMulti-LMGames.part14.rar.html