Aqui te dejo en este post este gran
juego de Celular
, descargalo gratis a tu ordenador sin demoras ni necesidad de registrarte, disfruta ya mismo de
Juegos y wallpapers para tu celular
, este juegazo lo publicamos el 28/05/2009, en puntojuegos agregamos los juegos gratis para descargar en varios servidores, no te olvides de visitarnos dia a dia ya que agregamos nuevos juegos todos los dias.
1277 juegos para el móvil Multiresolución
Racing Games Mobile (Multi-Screens)
Contenido:
1. 4 Wheel Xtreme 3D
2. Asphalt 3 Street Rules 3D
3. Babe Rally 2
4. Bomberman Kart
5. Burnout
6. Cars
7. Colin McRae Rally 4
8. Ducati 3D Extreme
9. FIA World Rally Championship
10. Project Gotham Racing
11. Jet Set Racing
12. Juiced.jar
13. Lego Racers
14. London Racer Police Madness
15. Metal Racers Quad Bikes
16. Need for Speed Pro Street 2D
17. Opposite Lock
18. Sega Rally 3D
19. The Fast And The Furious Fugitive
20. Need For Speed Undercover
AGE of Empires 3 Mobile (Multi-Screen)
Pack 1500 juegos java para moviles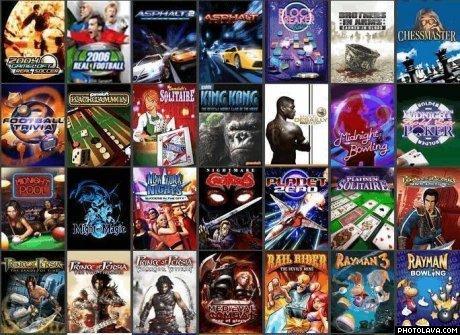 Parte 1: http://www.megaupload.com/?d=7TG0RBPY
Parte 2: http://rapidshare.com/files/227405773/JUEGOS_JAVA_PARA_MOVIL.part2.rar
Parte 3: http://www.megaupload.com/?d=FV5AQUKC
Parte 4: http://rapidshare.com/files/227409210/JUEGOS_JAVA_PARA_MOVIL.part4.rar
70 Wallpapers animados
Coleccion de juegos de carrera varias resoluciones
Contiene:
3D Need for Drift
4 Wheel Xtreme 3D
4×4 Extreme Rally 3D
African Rally Quad
Air Burster 3D
Alonso Racing 2006
America's Cup Anywhere Mobile Racer
Asphalt 3 Street Rules
Asphalt 3 Street Rules 3D
Asphalt Urban GT 2
Asphalt Urban
Asphalt Urban Gt 3
Babe Rally 2
Bomberman Kart
Burning Tires
Burnout
Colin McRae Rally 04
Crazy Frog Racer
Dakar 2007
Ducati 3D Extreme
FIA World Rally Championship
FIM Motocross
Ghost Rider
Hummer Jump and Race
Jet Set Racing
Juiced
Juiced 2
Juiced Eliminator
L.A. Rush
Lego Racers
Lotus Slot Cars
Metal Racers Quad Bikes
Moto Racing Fever
MotoGP 3
Need for Speed Carbono
Need for Speed Pro Street 2D
Need for Speed Pro Street 3D
Opposite Lock
Pedrosa GP 2007
Planet Riders
Racing Fever GT
Rally Evolution 3D
Rally Pro Contest
Red Out Racer
Ridge Racer
Sega Rally 3D
Speed Addict Underground 2
Speed Spirit
Street Race World 3D
Super Taxi Driver
Team McLaren Mercedes
The Fast and the Furious Fugitive 3D
The Fast and the Furious Tokyo
ToCA Race Driver 3
Tour de France 2006
Tour de France 2007
Turbo Jet Ski 3D
Vodafone McLaren Mercedes Team Racing
Vortex Racer
4×4 Extreme Rally 3D
Cars
Crazy Frog 3D
Death RAce
Glu Mobile Project Gotham Racing
Hummer 3D
London Racer Police Madness
Need For Speed Carbon
Need For Speed Pro Street
Offroad Dirt Motocross
Race Driver Grid
Sega Rally
Speed Racer (Meteóro)
Subaru Rally Challenge
The Fast And The Furious Fugitive
Los mejores juegos resolucion 240×320
URBAN ATTACK
PRINCE OF PERSIA
NBA LIVE 07
METAL SLUG MOBILE 3
MARIO BROS
FIFA 2008
BURNOUT
ASSASSIN'S CREED
ASPHALT 4
AMERICAN GANGSTER
AGE OF EMPIRES 3
y mas…
coleccion juegos superheroes multires.
X-MEN 2
X-MEN GENETICS
X-MEN BATTLE
LEGO BATMAN
BLADE
COSTATINE
4 FANTASTICOS
GHOST RIDER
HULK
SPIDERMAN 1
SPIDERMAN 2
SPIDERMAN 3
BATMAN BEGINS
IRON MAN
GHOST RIDER
prince of persia coleccion multires.
metalslug coleccion multires.
resident evil coleccion multires.
Desde ya muchas gracias por pasar por mi post de Juegos y wallpapers para tu celular espero te alla sido util y ya sabes si asi lo fue compartilo en tus redes sociales favoritas y ayudanos a crecer.