Aqui te dejo en este post este gran
juego de Simulacion
, descargalo gratis a tu ordenador sin demoras ni necesidad de registrarte, disfruta ya mismo de
Frets on Fire – Guitar Hero 5 Songs PACK!!! + FoFix Full!
, este juegazo lo publicamos el 19/09/2009, en puntojuegos agregamos los juegos gratis para descargar en varios servidores, no te olvides de visitarnos dia a dia ya que agregamos nuevos juegos todos los dias.
Guitar Hero 5 Songs PACK!!!
para FOF / FoFiX
Bueno lo prometido es deuda manga de vagos, aca les dejo las canciones del Guitar Hero 5, las canciones tienen todos los instrumentos y en todas las dificultades, rips originales del juego como siempre
Los rips de los nuevos DLC del RockBand, asi como del RockBand Beatles no van a ser posibles a menos que se desencripten los oggs (pistas de audio separadas) del juego, cosa en que se esta trabajando, asi que paciencia en cuanto a eso.
Primero les dejo el programa Full para poder tocar las canciones de este post y todos mis post de canciones. A petición de muchos usuarios les dejo la mejor y última versión del mejor MOD o mejor dicho proyecto basado en el grandioso fretsOnFire. con tues el FoFix Proyect.
- El FoFix es un proyecto open source como el soft en que se basa, el frets on fire.
- Tiene muchas mas opciones que cualquier frets conocido
- Es bastante modificable
- Soporta distintos Themes que pueden ser creados o instalados directamente.
- Soporta tracks de Guitarra, Bajo, Bateria.
- Soporta Letras de canciones al estilo RockBand (scroll lyrics)
- Soporta Guitar Solos (al estilo RockBand)
- Soporta StarPower mether y Overdrive bar (del GH y RB)
- Soporta el Big Rock Ending (al estilo Rock band)
- Es multiplayer hasta 2 jugadores simultaneos, coop, batle mode, etc.
- Tiene varias opciones de visualizar la lista de la canciones, al estilo GH, al estilo Rock Band 2.
- Soporta caratula del Cd o del albun de la canción.
- Soporta fondos animados (com secuencia de imagenes por el momento)
- Soporta preview de la canción
- Soporta Carrer mode, es decir jugar destrabando canciones, como en el GH o RB original
- Soporta casi todas las guitarras del mercado (ya sean de PS2, Ps3, XBOX 360)
- La jugabilidad es muy configurable, para adaptarse desde los noobs hasta los jugadores expertos.
- Soporta resoluciones 4.3 y widescreen.
- y mucho mas…
El programa que les dejo a a continuación es el FOFIX 3.100 FINAL + GH3, RB, RB2 Themes.
Guitar Hero 3 Theme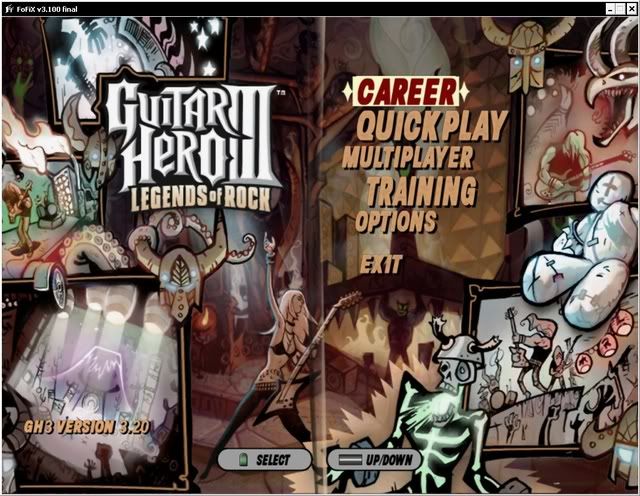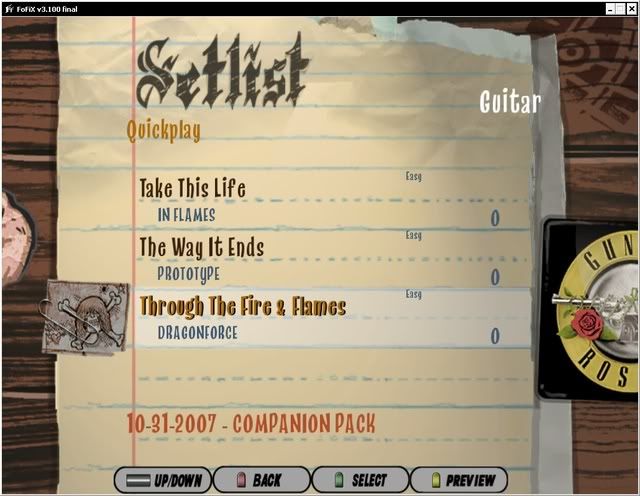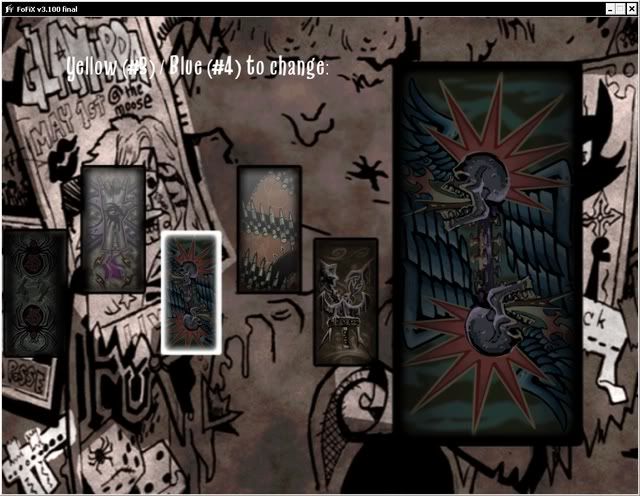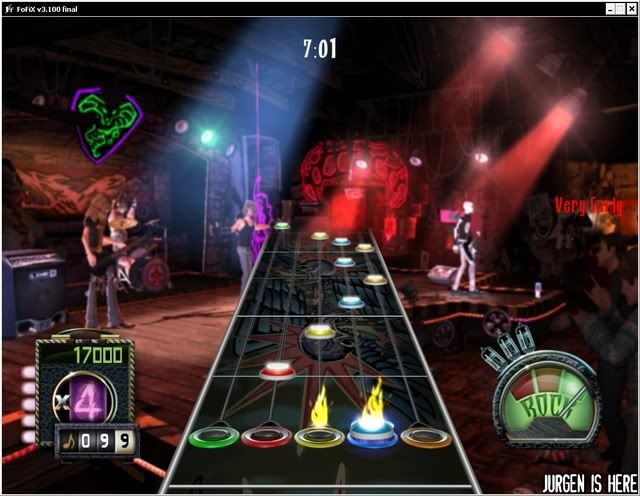 Rock Band Theme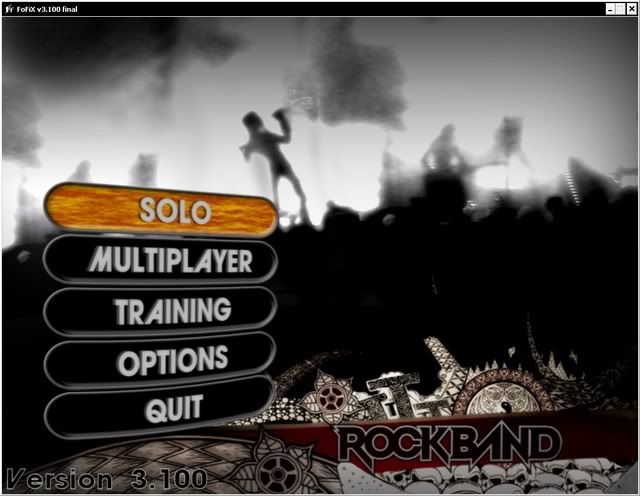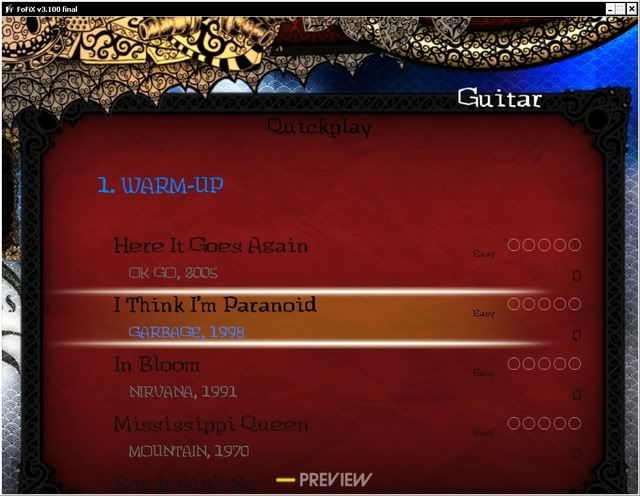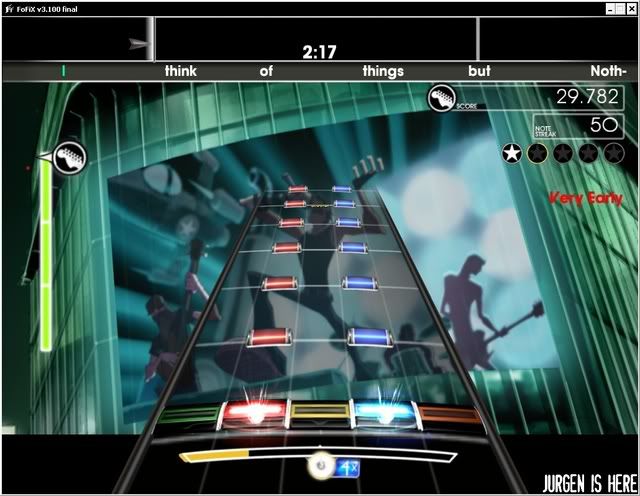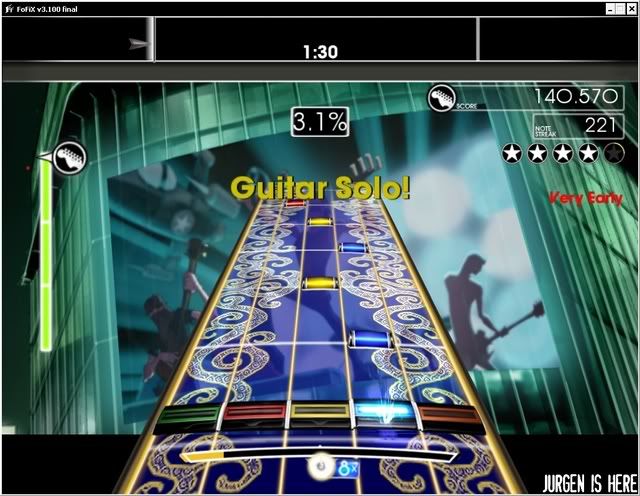 Rock Band 2 Theme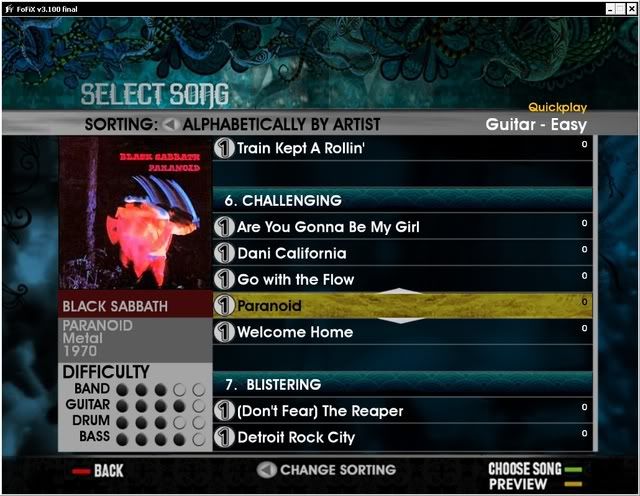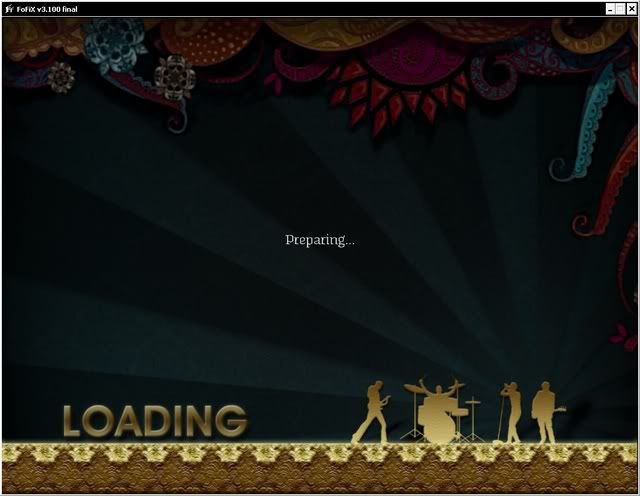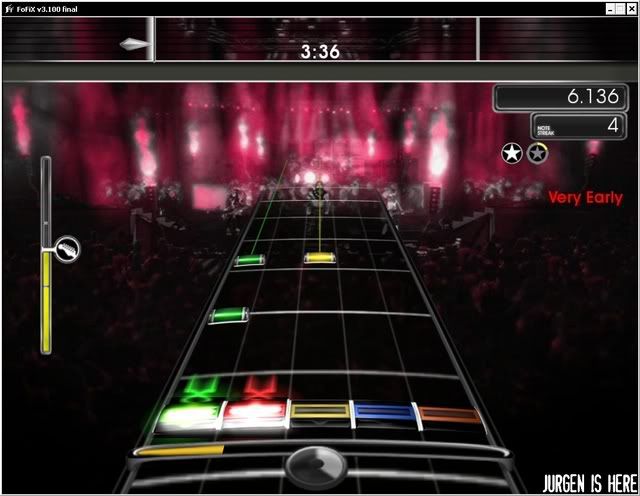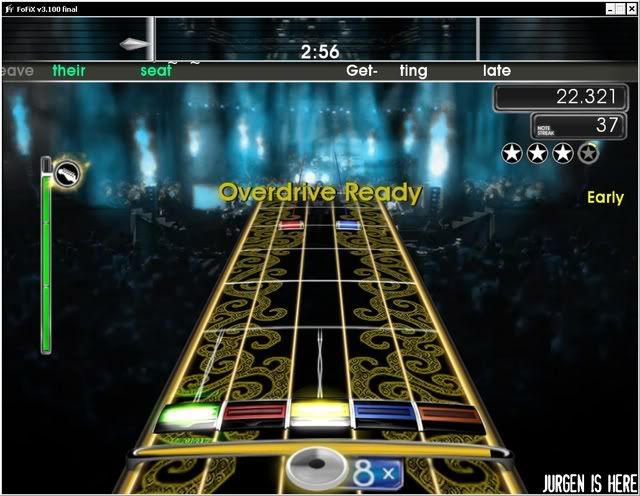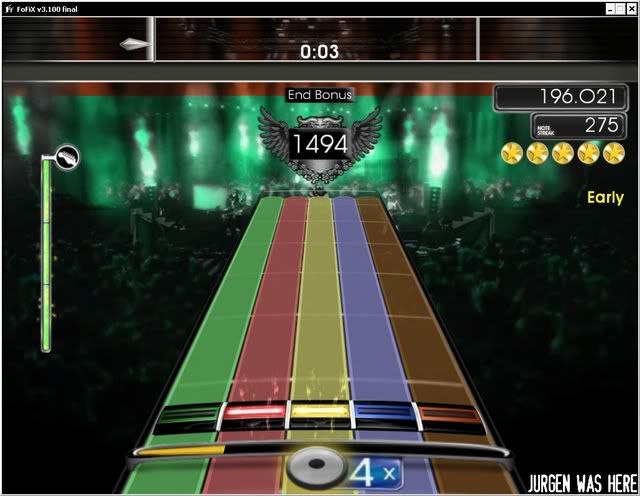 Packs completos, con CARRER y toda la info de las canciones, incluidas las caratulas.
—————GH5 Song List————–

Tier 1 – The 13th Rail
Parte 1 – Parte 2
- Song 2
- They Say
- Gamma Ray
- In My Place
- Feel Good Inc.
- All Along The Watchtower
- Sympathy For The Devil
Tier 2 – Club Boson
Parte 1
- Steady, As She Goes
- Blue Day
- Gratitude
- Sowing Season (Yeah)
- Only Happy When It Rains
- Blue Orchid
- Hurts So Good
Tier 3 – Sideshow
Parte 1
- Play That Funky Music
- Fame
- Ex-Girlfriend
- Cigarettes, Wedding Bands
- Woman From Tokyo ('99 Remix)
- Under Pressure
- Sex On Fire
Tier 4 – Angel's Crypt
Parte 1
- Kryptonite
- Send A Little Love Token
- Mirror People
- Comedown
- Never Miss A Beat
- Dancing With Myself
- Shout It Out Loud
Tier 5 – O'Connell's Corner
Parte 1- Parte 2
- You Give Love A Bad Name
- In The Meantime
- You And Me
- L.A.
- Make It Wit Chu
- Plug In Baby
- Superstition
- Sultans Of Swing

Tier 6 – The Aqueduct
Parte 1
- Why Bother?
- Jailbreak
- The Rock Show
- Bleed American
- Hungry Like The Wolf
- Looks That Kill
Tier 7 – Guitarhenge
Parte 1
- Lonely Is The Night
- Wannabe In LA
- Nearly Lost You
- Smells Like Teen Spirit
- Lithium (Live)
- All The Pretty Faces
Tier 8 – Neon Oasis
Parte 1
- 20th Century Boy
- What I Got
- A-Punk
- Seven
- Bring The Noise 20XX
- Du Hast
Tier 9 – Electric Honky Tonk
Parte 1
- Ring Of Fire
- Disconnected
- Bullet With Butterfly Wings
- One Big Holiday
- We're An American Band
Tier 10 – Calavera Square
Parte 1
- Incinerate
- Maiden, Mother & Crone
- Wolf Like Me
- So Lonely
- No One To Depend On (Live)
- Runnin' Down A Dream
Tier 11 – Cairo Bazaar
Parte 1
- Saturday Night's Alright (For Fighting)
- Younk Funk
- Sneak Out
- Streamline Woman
- Back Round
- Medicate
Tier 12 – The Golden Gate
Parte 1 – Parte 2
- Six Days A Week
- American Girl
- Judith
- Deadbolt
- Brianstorm
- 2 Minutes To Midnight
Tier 13 – Fjord of Swords
Parte 1 – Parte 2

- Lust For Life (Live)
- Sweating Bullets
- Do You Feel Like We Do? (Live)
- Demon(s)
- Scatterbrain (Live)
- Done With Everything, Die For Nothing
- The Spirit Of Radio (Live)
Bonus Tier – Hypersphere
Parte 1
- 21st Century Schizoid Man
Desde ya muchas gracias por pasar por mi post de Frets on Fire – Guitar Hero 5 Songs PACK!!! + FoFix Full! espero te alla sido util y ya sabes si asi lo fue compartilo en tus redes sociales favoritas y ayudanos a crecer.